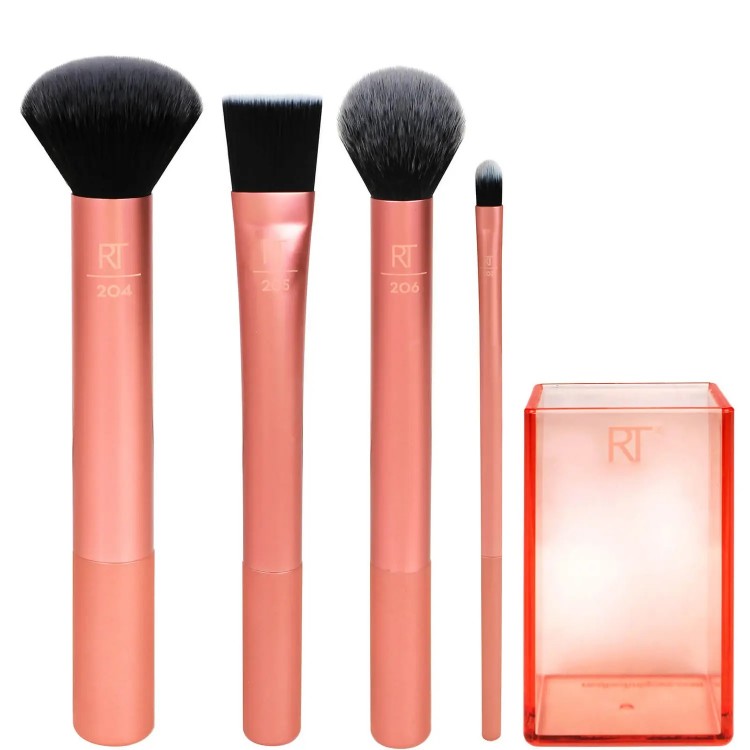 Real Techniques Flawless Base Brush Set

Real Techniques
Stock:

In Stock

Model:

079625915334
Description
Create the perfect canvas with the Real Techniques Flawless Base Brush Set: a collection of four pieces that meets all the needs of every devoted make-up user. The set contains a series of different brushes, each of which works differently but all work together to ensure flawless skin. Ideal for base make-up, the set contains two brushes for foundation, a brush for precise application of the concealer and a brush for contouring and highlighting. Everything is stored in the handy brush bowl.
Cruelty free
The set includes:
Contour Brush
Scrub your skin like a pro with the Contour Brush. It is ideal for the delicate application of make-up products for contouring and highlighting. Thanks to Real Techniques's soft UltraPlush κε bristle head, the brush glides easily on the skin, distributing the product smoothly and evenly. Ideal for creating sculpted cheekbones.
Details Brush
Achieve a perfectly flawless complexion with the Detailer Brush: a small make-up brush that is ideal for targeted concealer application, or can also be used as a lip brush. Made with a small head of absolute precision, the brush can handle and cover problem areas without difficulty.
Buffing Brush
Create airy skin with the Buffing Brush: a soft make-up brush that is ideal for the excellent application of the foundation. Designed for the airy application of the product on the skin, the brush provides a flawless and natural finish with full coverage. Ideal for use with foundation in loose or compact powder.
Square Foundation
Easily apply the liquid foundation using the Square Foundation Brush. It is an essential tool with a very dense head. With a unique, square head shape, the make-up brush is the perfect tool for building personalized coverage with liquid foundation. The results are flawless.
Brush Cup
Keep your brushes in perfect condition with the Real Techniques Brush Cup. Designed to store your favorite makeup brushes, the cup keeps your tools clean and tidy in your toilet.